Literacy in the Early Years Foundation Stage
Reading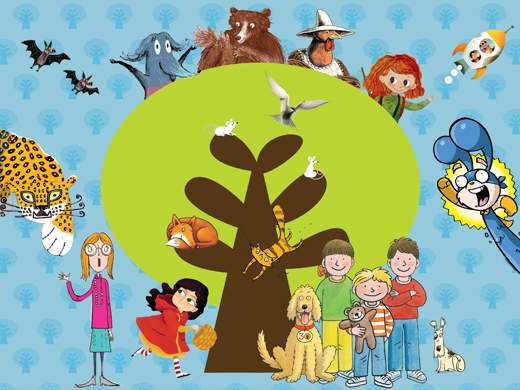 We use the Oxford Reading Tree scheme
We use the Rigby Star Reading scheme
Phonics
At Beaumont, we use Letters and Sounds to teach phonics.
Please visit the Letters and Sounds Website to find games and activities to support your child.
We use the Jolly Phonics actions
We use Ruth Miskin's Letter Formation images and rhymes to help the children understand the correct way to form a letter. Please click the PDF link below to see the full chart .
The skills children need to read and write begin at birth. Learning to communicate begins with eye contact, gestures, and vocal noises before developing into verbal exchanges and conversations. Good verbal communication makes it much easier to communicate in writing. Likewise, learning to read begins with recognising differences and similarities in faces, pictures and symbols.
In the EYFS we support children's writing development by:
talking about experiences, feelings, ideas, play, things we have done and are going to do…

strengthening our arms and shoulders through climbing, digging, dancing and lots of other activities

developing our 'fine' motor skills (using fingers) through weaving, threading, manipulating playdoh, using tools such as scissors

planned movement and activities to develop muscle tone and vocabulary needed for writing (straight, curved, top, bottom, left, right, loops, circles, angles…)

activities to develop the control and pressure needed to use a pencil or pen

practising writing letters using correct formation

planned phonics activities to develop careful listening, awareness of rhyme and alliteration, letter recognition, identifying the sounds in words (segmenting), putting letters together to form words (blending), and writing practise

planned writing activities as a whole class and in groups covering sentence writing, different kinds of writing (labels, lists, invitations, instructions, stories…)

opportunities to practise writing skills through continuous provision on a daily basis

homework activities
We support reading development by:
daily self-registration

talking with each other

matching games and activities

daily reading and story sharing

acting stories out in role play and small world games

puppets and toys related to stories

using words and symbols in our environment, and talking about signs and symbols children see in the environment

a wide range of books available in continuous provision

phonics sessions (see above)

whole class and small group reading activities

lending library books for children to share at home

sending reading books home to practise, and inviting parents and carers to read a book with their child each morning
At Beaumont Primary Academy we use 'Jolly Phonics' to support letter recognition, and 'Ruth Miskin' letter formation. We use the 'Rigby Star' and 'Oxford Reading Tree' schemes, together with a wide range of 'real' books to teach reading.
Ways to help at home:
There are lots of things you can do to help your child's literacy skills from a very early age. You could:
play snap and pelmanism

complete simple jigsaws and puzzles together

encourage your child to spot familiar signs and logos, such as McDonald's or Asda

talk about what you are doing together, and encourage your child to use sentences and appropriate words

get your child a library card and borrow books to share together. Children enjoy cuddling up and listening to stories long before they understand the words

visit the park and encourage your child to climb, swing and use their shoulders and arms when they play

provide crayons and large pieces of paper for your child to make marks, draw and 'write'

play board games (this will help your child with maths and social skills as well as literacy)